You get 6 sighter arrows.

You shoot 3 dozen arrows on a 122cm face at your chosen distance.
6 Arrows shoot per end.
You score the round using the 5 zone scoring method. 9 for a gold, 7 for a red, 5 for a blue, 3 for a black, and 1 for a White
Use the table below to check what score is required for your bow type and the distance you are shooting at. Certain bow types have different scores so please check the table below. (252 is based on a recurve bow, hence the adjustments for other bow types to make it fair) 
Badges have to be paid for.
Contact records@targetcraft.org to claim your badge, you will also be added to the "Members Achievements" below.
| Bow Type | 20 Yards | 30 Yards | 40 Yards | 50 Yards | 60 Yards | 80 Yards | 100 Yards |
| --- | --- | --- | --- | --- | --- | --- | --- |
| | | | | | | | |
| Recurve | 252 | 252 | 252 | 252 | 252 | 252 | 252 |
| Compound | 280 | 280 | 280 | 280 | 280 | 280 | 280 |
| Longbow | 164 | 164 | 164 | 164 | 164 | 126 | 101 |
| Flatbow | 169 | 169 | 169 | 169 | 169 | 133 | 106 |
| Barebow | 189 | 189 | 189 | 189 | 189 | 164 | 139 |
| Name | Distance |
| --- | --- |
| Steve Allen | 80 Yards |
| Aaron Waddington | 60 Yards |
| Bob Reid (RH) | 60 Yards |
| Chris Tungate | 60 Yards |
| John Duggan | 60 Yards |
| Charles Collins | 50 Yards |
| Paul Roberts | 50 Yards |
| Phil Bailey | 50 Yards |
| Phil Rennocks | 50 Yards |
| Bob Reid (LH) | 40 Yards |
| David Matthews | 40 Yards |
| Gary Freeman | 40 Yards |
| Laura Smart | 40 Yards |
| Malcolm Smith | 40 Yards |
| Pat Rumbell | 40 Yards |
| Roger Daniels | 40 Yards |
| Sue Roberts | 40 Yards |
| Lucie Matthews | 30 Yards |
| Maureen Binfield | 30 Yards |
| Miles Goodman | 30 Yards |
| Samantha Matthews | 30 Yards |
| Candice West | 20 Yards |
| Catherine Foster | 20 Yards |
| Chris Griffin | 20 Yards |
| Elliot Furnell | 20 Yards |
| Ian Furnell | 20 Yards |
| Isabelle Thorogood | 20 Yards |
| Jon Shepherd | 20 Yards |
| Kate Dillon | 20 Yards |
| Lucie Horsley | 20 Yards |
| Lucie Sanday | 20 Yards |
| Oliver Hollins | 20 Yards |
| Sarah Jane Fletcher | 20 Yards |
| Name | Distance |
| --- | --- |
| Peter Waterton | 100 Yards |
| Tim Bull | 100 Yards |
| Jon Bull | 60 Yards |
| Jon Shepherd | 60 Yards |
| Miles Goodman | 40 Yards |
| Eloise Murray | 30 Yards |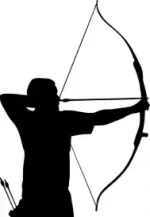 | Name | Distance |
| --- | --- |
| Archie McDougall | 80 Yards |
| Malcolm Smith | 40 Yards |
| Darren Harris | 30 Yards |
| Candice West | 20 Yards |
| John Kay | 20 Yards |
| Mark Jones | 20 Yards |
| Paul Gardiner | 20 Yards |
| Samantha Matthews | 20 Yards |
| Name | Bow | Distance |
| --- | --- | --- |
| John Duggan | AFB | 40 Yards |
| Pat Rumbell | Flatbow | 40 Yards |
| David Matthews | Flatbow | 30 Yards |
| David Matthews | Horsebow | 30 Yards |
| David Matthews | Recurve | 30 Yards |
| Geoff Gregory | Horsebow | 30 Yards |
| Leah Waterworth | AFB | 30 Yards |
| Malcolm Smith | AFB | 30 Yards |
| Miles Goodman | Horsebow | 20 Yards |
| Youlia Lee | Recurve | 20 Yards |