Frostbite competitions are held at West Lodge during the winter months.
You get 6 sighter arrows.
You shoot 3 dozen arrows on a 80cm face at 30 Meters.
6 Arrows shoot per end.
You score the round using the 10 zone scoring 10-1. 
Score sheets must be fully completed and signed by the archer shooting the round. The scoring must also be witnessed and signed off by another archer. 
Badges have to be paid for.
Contact records@targetcraft.org to claim your badge, you will also be added to the "Members Achievements" below.
| Name | Badge |
| --- | --- |
| Steve Allen | 330 |
| Bob Reid (RH) | 300 |
| Chris Tungate | 300 |
| Gary Freeman | 275 |
| John Duggan | 275 |
| Paul Roberts | 275 |
| Bob Reid (LH) | 250 |
| Charles Collins | 250 |
| Pat Rumbell | 250 |
| Sue Roberts | 250 |
| Catherine Foster | 225 |
| Malcolm Smith | 200 |
| Name | Badge |
| --- | --- |
| Tim Bull | 340 |
| John Shepherd | 330 |
| Geoff Gregory | 315 |
| Peter Waterton | 315 |
| Frances Bull | 300 |
| Izzy Thorogood | 300 |
| Miles Goodman | 250 |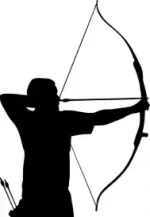 | Name | Badge |
| --- | --- |
| Archie McDougall | 200 |
| Name | Bow | Badge |
| --- | --- | --- |
| John Duggan | Recurve | 200 |