You get 6 sighter arrows
You shoot 5 dozen arrows on a 60cm face at 20 Yards.
3 Arrows shoot per end.
You score the round using the 10 zone scoring 10-1. 
Score sheets must be fully completed and signed by the archer shooting the round. The scoring must also be witnessed and signed off by another archer. 
Badges have to be paid for.
Contact records@targetcraft.org to claim your badge, you will also be added to the "Members Achievements" below.
| Name | Badge |
| --- | --- |
| Aaron Waddington | 580 |
| Chris Tungate | 550 |
| Steve Allen | 550 |
| Archie McDougall | 525 |
| Bob Reid (RH) | 525 |
| John Duggan | 525 |
| Laura Smart | 525 |
| Phil Bailey | 525 |
| Alan Smith | 500 |
| Anthony Chadwick | 500 |
| Charles Collins | 500 |
| Corin Willcocks | 500 |
| Jeff Levett | 500 |
| Neil Irvine | 500 |
| Lucie Matthews | 475 |
| Lucy Sanday | 475 |
| Malcolm Smith | 475 |
| Mark Berry | 475 |
| Paul Roberts | 475 |
| Ryan Irvine | 475 |
| David Matthews | 450 |
| Phil Rennocks | 450 |
| Roger Daniels | 450 |
| Steve Brown | 450 |
| Sue Roberts | 450 |
| Bob Reid (LH) | 425 |
| Peter Hoinville | 425 |
| Isabelle Thorogood | 400 |
| Benjy Widdicombe | 375 |
| Catherine Foster | 375 |
| Lara Irvine | 350 |
| Samantha Matthews | 350 |
| William Chadwick | 350 |
| Max Carson | 325 |
| Morgan Jones | 325 |
| Name | Badge |
| --- | --- |
| Jon Bull | 585 |
| Tim Bull | 580 |
| Archie McDougall | 550 |
| Frances Bull | 550 |
| Geoff Gregory | 525 |
| Miles Goodman | 525 |
| Chris Pinfold | 475 |
| Brendon Prigmore | 350 |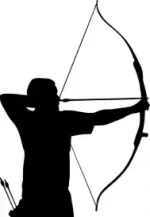 | Name | Badge |
| --- | --- |
| Jesse White | 525 |
| Archie McDougall | 475 |
| Richard Jones | 450 |
| Candice West | 425 |
| John Duggan | 425 |
| Joseph Widdicombe | 425 |
| Malcolm Smith | 400 |
| Name | Bow | Badge |
| --- | --- | --- |
| Archie McDougall | AFB | 475 |
| Archie McDougall | Recurve | 450 |
| Archie McDougall | Longbow | 450 |
| Bob Guilford | Longbow | 450 |
| Bob Guilford | AFB | 425 |
| Geoff Willcocks | Longbow | 425 |
| David Matthews | Recurve | 350 |
| Leah Waterworth | AFB | 350 |